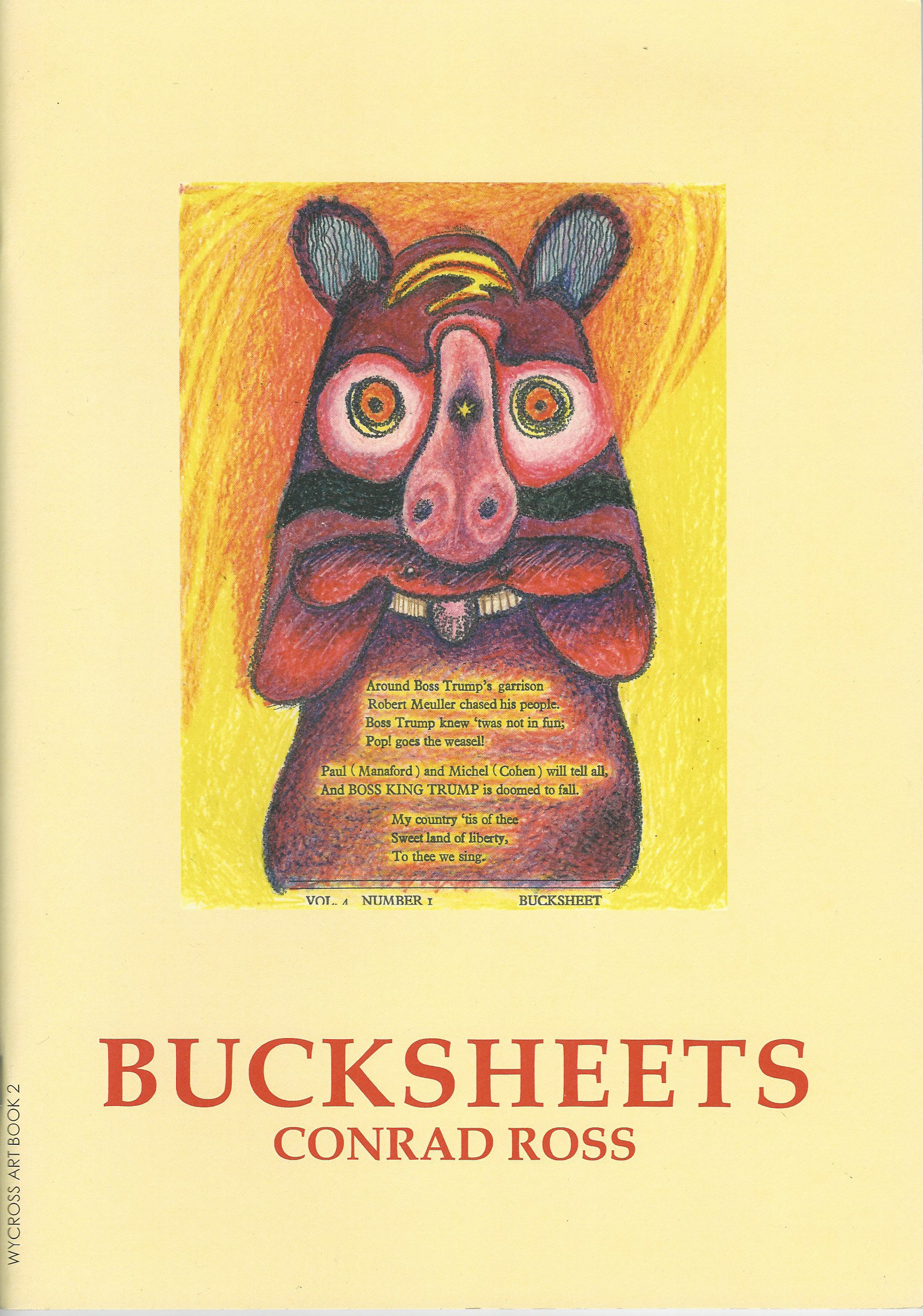 BUCKSHEETS

 were originally printed in small sets of 50 and distributed in 15 states. The folio was printed locally by Craftmaster Printing.  The art folio is available directly through Wycross Press, for $29.99 which includes tax and shipping and can be ordered below.
During these final weeks of Donald Trump's (first, only?) administration, BUCKSHEETS is

on sale for 1/2 price - only $15.00!

  Click HERE to order yours!
For Immediate Release 1/13/2020
Wycross Press Publishes Collection of Prints and Poetry Satirizing Donald Trump  
BUCKSHEETS by Conrad Ross (2016-2019) pays homage to political cartoon commentators like Thomas Nash, Guadalupe

Posada

with ruthless resistance aimed at this administration.
In the spirit of 19th and early 20th century political pennysheets,

BUCKSHEETS

by Conrad Ross (Wycross Press) is a 40-page compilation of 15 political broadsides illustrated by artist/printmaker Conrad Ross and child-like dithyrambic poetry "inspired by nursery rhymes in reaction to the Trump administration."
BUCKSHEETS, or penny sheets, were inexpensive and politically satirical broadsides intended for social commentary and satirization. Considered "the father of the American cartoon,"

Thomas Nast's

critiques gained wide fame for his depictions of "Boss" Tweed and the greed and corruption associated with Tammany Hall in the early 1800s. Guadalupe Posada was a Mexican political lithographist whose work and calaveras have influenced numerous Latin American artists and cartoonists because of its satirical acuteness and social engagement.
An essay by David Carter, Hollifield Associate Professor of Southern History at Auburn University is the featured commentary throughout the art folio. Neither the art nor the essay hold back in their contempt for what is described as the authoritarian administration of Donald J. Trump.
"What a gift (Trump) will bequeath to his successors in the White House for who wouldn't relish the change to be compared to this buffoon of a leader? ... Spare a kind word for James Buchanan now poised to move up one rung in the rankings of worst presidents to make room for Donald J. Trump," Carter writes in his essay.
The essay isn't just commentary. Carter has painstakingly referenced his essay with 19 footnotes corroborating some of the most egregious moments in Trump's first 3 years in office. Included is a "VOTE" foldout poster entitled, "Grand Poobah." It is inserted in the book and recommended to be used as a wall poster as a reminder of the importance of the Vote.
As Conrad notes in his introduction: "After Trump's election, I wondered, as fortunately many at that time did, what can I do? I thought, 'I have a press!' So I turned the press's effort from the creative endeavor of publishing fine art into a political one."
The election of 2020 is now at hand. When we went to press there were still 18 of the 24 Democrat candidates who announced they were running to defeat Trump. And impeachment proceedings have begun. Exciting yet dangerous times we are living in."
Wycross Press is devoted to experimental printmaking and publishes unique limited edition multiples and folios. Conrad Ross is an artist/printmaker living in Auburn, AL. Born in 1931, his talent was recognized in early high school and he pursued art as a vocation. Conrad Ross brings over six decades of creative experience to the direction of the Press. With over 40 solo exhibitions, 500 juried and invitational shows, years of lectures and demonstrations as a university professor at Auburn where he is now Emeritus. He lives in Auburn, with his wife Janice, who is also an accomplished artist.